Dhara Industries – Top Manufacturer, Supplier and Exporter of superior quality of Chain Coupling in Ahmedabad. The manufactured ranges of Chain Couplings are considered to be one of the distinguished in the industrial market. Chain Couplings are one of the oldest method of joining two rotating shaft with no transmissions loss. We are engaged in offering our customers with ISO certified products with assured quality, durability, reliability and technical assistant. Our manufactured Chain Flexible Couplings are compact, all steel, long lasting flexible couplings, capable of transmitting relatively high torques with minimum of space consumption. Outfitted with a modern infrastructure, we are the most prominent manufacturer and supplier of a wide array of Chain Coupling in Ahmedabad, Gujarat.
We Chain Coupling Manufacturer in Ahmedabad are offering the enhanced quality, compact in design, superb in durability, problem free functioning type of product to our all customers. This coupling is quality tried by us to guarantee its resolute superiority and long service life. We are making this chain coupling in various details and determinations at minimum cost for all customers.
Features:
Outstanding Durability The coupling performs outstanding durability with the torque on the coupling shared with the surfacehardened teeth of the sprockets and the powerful roller chains that engage with the teeth.
Easy Coupling and Decoupling Both shafts can be easily coupled or decoupled with a single joint pin inserted into or extracted from the roller chains.
Absorption of Large Misalignment The clearances between the chains and sprockets and between chain components absorb the great positional misalignment of both shafts.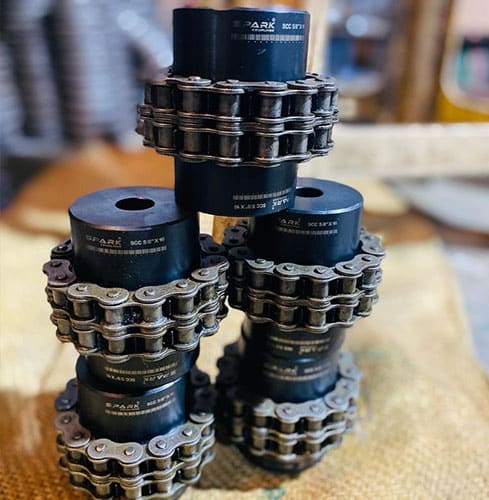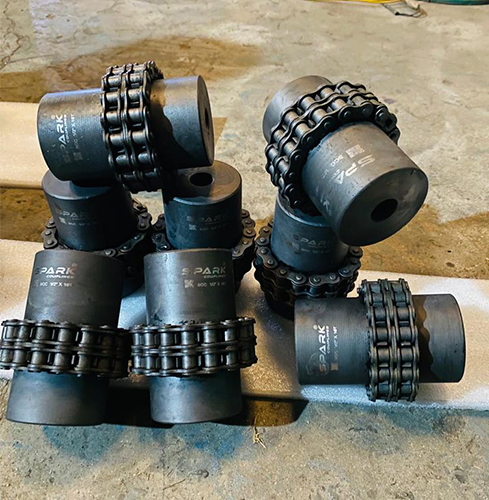 Chain Coupling
| | | | | | | |
| --- | --- | --- | --- | --- | --- | --- |
| NO | PITCH | TEETH | ASA-NO | BOSS OD | BOSS LENGTH | TOTAL LENGTH |
| 1 | ½ | 14 | 4014 | 41 | 40 | 80 |
| 2 | ½ | 16 | 4016 | 50 | 40 | 80 |
| 3 | ½ | 18 | 4018 | 57 | 40 | 80 |
| 4 | ½ | 20 | 4020 | 65 | 40 | 80 |
| 5 | ½ | 22 | 4022 | 72 | 40 | 80 |
| 6 | ½ | 24 | 4024 | 78 | 40 | 80 |
| 7 | 5/8 | 14 | 5014 | 54 | 45 | 90 |
| 8 | 5/8 | 16 | 5016 | 64 | 45 | 90 |
| 9 | 5/8 | 18 | 5018 | 74 | 45 | 90 |
| 10 | 5/8 | 20 | 5020 | 94 | 45 | 90 |
| 11 | 5/8 | 22 | 5022 | 104 | 45 | 90 |
| 12 | 5/8 | 24 | 5024 | 114 | 45 | 90 |
| 13 | ¾ | 14 | 6014 | 65 | 50 | 100 |
| 14 | ¾ | 16 | 6016 | 77 | 50 | 100 |
| 15 | ¾ | 18 | 6018 | 90 | 50 | 100 |
| 16 | ¾ | 20 | 6020 | 101 | 50 | 100 |
| 17 | ¾ | 22 | 6022 | 113 | 50 | 100 |
| 18 | ¾ | 24 | 6024 | 125 | 50 | 100 |
| 19 | 1 | 14 | 8014 | 125 | 70 | 140 |
| 20 | 1 | 16 | 8016 | 133 | 70 | 140 |
| 21 | 1 | 18 | 8018 | 140 | 70 | 140 |
| 22 | 1 | 20 | 8020 | 145 | 70 | 140 |
| 23 | 1 | 22 | 8022 | 151 | 70 | 140 |
| 24 | 1 | 24 | 8024 | 166 | 70 | 140 |